When the "smart money" talks, I listen. And that smart money right now is betting big on a single EV stock that could dethrone Tesla. 
Specifically, hedge funds collectively bought nearly 37 million shares of this EV stock last quarter. That made it the single-most bought EV stock by hedge funds in the third quarter of 2022 (by share volume). 
Some of the buyers include Wall Street heavyweights like George Soros, David Einhorn, and Ken Griffin. They're three of the most successful hedge fund managers in the history of Wall Street. 
In other words, the smart money has spoken. This is their pick as the top EV stock to buy today. 
Needless to say, this is one that you need to learn about right now. Fortunately, we're here to tell you all about it. 
We're talking about Rivian (RIVN). 
An EV Stock Titan: The Quick Rundown on Rivian
To cut to the chase, let me be clear on where I stand on Rivian stock. 
I stand with Soros, Einhorn, and Griffin. I'm a Rivian stock bull, mostly because I think this company can dominate an unfilled niche in the EV industry that, at scale, will be very large. 
But before we dive into the bull thesis on Rivian stock, let's first revisit the company's fundamentals. 
Rivian is an EV startup that's designing, manufacturing, and selling high-end electric SUVs and pick-up trucks. The company is widely considered one of the most technologically advanced and promising EV makers in the world today. 
Rivian started delivering units of its first model – the R1T – in 2021. 
It's an electric pick-up truck that seats five, has a 54×50-inch bed and gets roughly 300 miles per charge. It can tow up to 11,000 pounds and has a 0-to-60 mph time as quick as three seconds. The interior is comprised of vegan leather, with a panoramic all-glass roof and a custom enhanced audio system.
It is a very high-quality electric pick-up truck. It currently starts at $73,000. Rivian delivered almost 1,000 of these trucks in 2021 and is on track to deliver more than 20,000 R1Ts this year.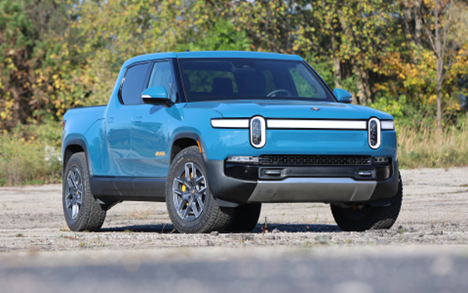 Rivian's second model is an electric SUV dubbed the R1S. 
It's a large-format SUV that can comfortably seat up to seven passengers and their gear. It, too, gets roughly 300 miles of driving range on a single charge and can accelerate from 0-to-60 mph as quick as three seconds. It has all-wheel-drive capability and is outfitted with the same interior fittings as the R1T: vegan leather interior, all-glass panoramic roof, and a custom enhanced sound system.
R1S deliveries just began earlier this year, with the company shipping models to employees first and now to the general public. Its starting price is $78,000. 
Rivian went public in a highly anticipated and briefly super-successful IPO last year. The stock has since struggled after a brief hot run. Today, the company is worth about $30 billion. And that's a valuation that I think is an absolute steal for this stock. 
The Long-Term Bull Thesis
Long term, I strongly believe that high-quality EV stocks are great multi-year investments. That's because EVs are set to grow from ~10% of car sales today to 50%-plus by 2030. 
As the whole industry grows 5X, the companies at the forefront of this disruption will sell tons of cars, generate huge profits, and unlock an enormous amount of shareholder value. 
Over the next five to 10 years, some of the stock market's biggest winners will be high-quality EV stocks.  
In the realm of high-quality EV stocks, Rivian stock is one of my favorites. 
Why? There are, in my opinion, five big sticking points of the bull thesis: 
Leader in a strong demand niche of the burgeoning EV industry.

We know that the trucking niche of the automotive market is very large with very durable and strong demand drivers. Presumably, as that portion of the auto market is electrified, there will emerge an equally large electric truck market. Presently, there is no clear leader in that market. But Rivian has a promising early start with a fantastic first-to-market truck that has among the best specs in the industry. This electric pick-up truck market will support multiple winners, and we're confident Rivian will be one of them. 

Great brand equity, with strong technology and a fantastic first product.

Rivian has established exceptional luxury branding and has developed leading EV battery and torque technology – two things very important for creating a great electric truck. Indeed, the R1T is probably the highest-performing electric pick-up truck in the market today. And it should remain so for the foreseeable future.

Strong early demand signals.

Rivian has over 114,000 net preorders in the U.S. and Canada for the R1S and R1T, illustrating that consumers want these cars. 

Big support and partnerships.

Rivian also has a very unique and promising partnership with

Amazon

(

AMZN

). The latter will buy at least 100,000 electric delivery vehicles from Rivian. The extent of this partnership broadly implies that Amazon has chosen Rivian as its "horse" in the EV race, And at scale, it will convert its entire delivery fleet into Rivian cars. That represents a huge long-term opportunity. 

A mammoth-sized balance sheet.

The best thing about Rivian is that it has about $14 billion in cash on the balance sheet. And that grants the company an almost unfair advantage over peers. Rivian plans to use basically every penny of that cash balance over the next two to three years to develop market-leading tech, secure market-leading supply deals, and establish market-leading production capacity. When all is said and done, Rivian's $14 billion should enable it to create an electric vehicle empire by 2025. 
For those reasons, I believe Rivian projects as one of the largest producers of EV cars by 2030, rendering it one of the most valuable auto companies in the world by then. 
My "napkin math" indicates that Rivian could hit the million-deliveries-per-year milestone by the late 2020s. At a $70,000 average sales price, that implies total revenues of $70 billion. Assuming a similar margin profile as Tesla (TSLA) (30% gross margins/20% operating margins), that would lead to $14 billion in operating profits – or about $10 billion in net profits after taxes. 
A simple 20X price-to-earnings multiple on that implies a potential late 2020s valuation target for Rivian of $200 billion. That's nearly 10X the current market cap, meaning I see RIVN stock as a potential ten-bagger. 
Powerful Short-Term Drivers
In the short-term, I think that Rivian stock has multiple catalysts that could spark a significant rebound in shares over the next six to 12 months. Maybe that's why hedge funds are loading up right now… 
For starters, the stock is really cheap. Indeed, Rivian stock is basically trading at just 1X its 2025 sales estimates. That means that if the company executes on its growth roadmap over the next few years, the stock should fly higher from current levels. 
Previously, that was a big "if." Today, it no longer is. Rivian is meeting its revised delivery and production targets even in a bad market. That's impressive and should re-inject investor confidence into the company's ability to execute over the long run.
At a macro level, significant tailwinds are forming for the whole Electric Vehicle Revolution.  
On the production side, China – where 60% of battery manufacturing is done – is moving past COVID-19 lockdowns and is restarting full production capacity at many of its manufacturing plants. 
On the demand side, the U.S. government recently passed the largest climate bill in the country's history. And a big part of it includes legislation to stimulate EV demand (including an extension of the EV tax credit, the elimination of a cap on the tax credit based on number of EVs sold, and the introduction of a tax credit for a used EV purchase).
And on the pricing side, the industrial metals needed to make EV batteries – like lithium and cobalt – have seen their prices collapse over the past few months, after spending most of 2022 soaring. Today, industrial metal prices are broadly back to where they were throughout most of the 2010s.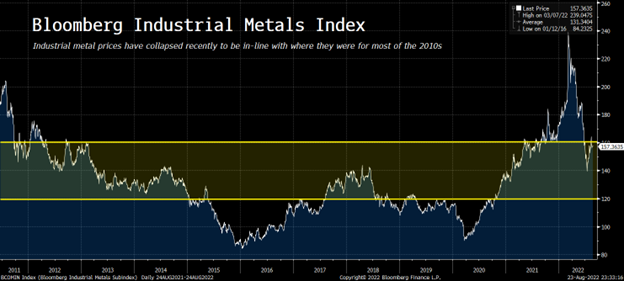 Overall, we think the whole EV industry is about to "heat up" in a big way. Rivian will dramatically and impressively ramp production against this improving macroeconomic backdrop, on the heels of a huge stock price decline. 
That's a powerful cocktail that implies huge gains ahead for Rivian stock. 
The Final Word on This EV Stock
We love Rivian stock as a long-term investment opportunity. 
But in fact, it isn't even our favorite next-gen transportation stock to buy today.
Instead, that's reserved for a tiny $3 technology stock that I think may be the single most compelling 12-month investment opportunity in the market today.
See; the world's largest company – Apple (AAPL) – is about to enter the EV game. It's been working on a super-secret "Apple Car" project since 2015. And late last year, the company reportedly increased investments into the project so as to accelerate its development timeline. 
The implication? Apple will likely  launch its own EV within the next two years. 
Judging by the success of the iPhone, the iPad, the Mac, the Apple Watch, and more, it seems very possible that the Apple Car is a huge hit. It even seems possible that this car unseats Tesla as the best-selling EV in the market. 
If so, the Apple Car could be bigger than the iPhone, iPad, Apple Watch, and Mac put together. 
And per my analysis, the $3 stock I'm talking about is positioned to secure a partnership with Apple to supply a critical piece of technology to make this car work.
If that sounds like a big deal, it's because it is. My modeling suggests this tiny stock could soar 40X over the next few years. 
So… what're you waiting for? Learn more about what may be the most exciting investment opportunity in the market today.
On the date of publication, Luke Lango did not have (either directly or indirectly) any positions in the securities mentioned in this article.